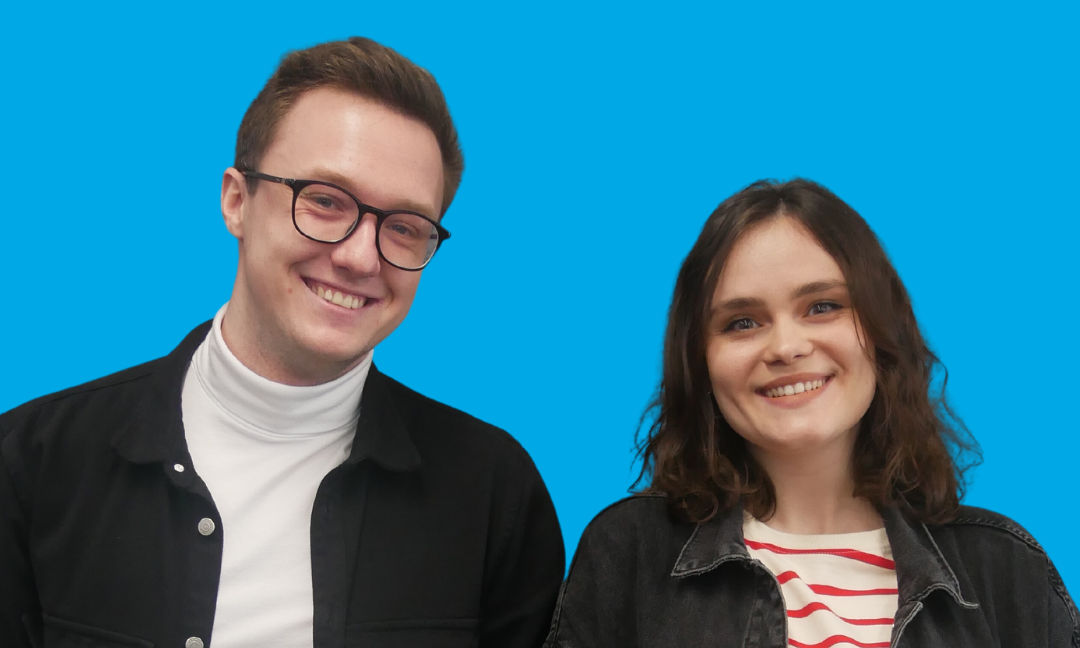 Winners in MEDIA category
WINNERS in the category MEDIA are David Červený and Judita Růžičková from ZARAGUZA CZ.
The client for media category was Kapka naděje. Challenge was to recruit the next generation of child psychiatrist by motivating medicine students to choose this career.

Thanks to Main partner Hearts & Science, winners will receive delegate passes to Cannes Lions and the right to represent Czechia in worldwide Young Lions competitions.

Media category jury :

President - Pierce Calnan, Director of Strategy Wunderman Thompson – London
Kateřina Huňová, executive creative director, Zaraguza Prague
Petr Majerik, freelance media coach
Lucie Kulhavá, operational director of the Mindshare agency
Nicole Lypinská, head of creative, Addict Agency
Jerguš Slota, Executive Director, Hearts & Science

Media category supporters:

Hearts & Science, Petr Majerik Media coach
WINNER: David Červený and Judita Ružičková, Zaraguza CZ
Idea and insight of the work:
General public severely underestimates the scarcity of child psychiatric care. It's so unavailable that parents wait up to 8 months to get help for their child. Many clinics are only able to provide care to the most severe cases of children after a suicide attempt. To put it bluntly, until children actually try to kill themselves, they are out of luck. There is no one to treat them. Attempt to get help is a provocative campaign built around child suicide attempt manuals. These appalling manuals present suicide attempt as the only reliable way to receive care for a struggling child in current situation. Which is, of course, absolutely unacceptable and needs to change.

2nd Place: Barbora Plecháčková and Ondřej Melichar, iProspect
Idea and insight of the work:
The Czech Republic is struggling from a shortage of child psychiatrists. During the briefing Q&A, we discovered that there are a total of 1680 psychiatrists in the Czech Republic, but only 180 of them are specialized on children. That adds up to 6 child psychiatrists for every 100 000 children in the country. The average waiting time for a child psychiatrist is 8 months, making it a struggle for parents that seek help for their children. This means that children can't always get help, even in urgent situations. In addition, 47% of these psychiatrists are over age 65. With a retirement age of 65 we need an injection of new workers as soon as possible. With kids and their parents often in a bad situation, needing serious medical help, we made our main message of the campaign: Being happy is not always our choice.
3rd Place: Vítězslav Mecner and Phuong Lan Nguyen, Kaspen/Jung von Matt
Idea and insight of the work:
Studying medicine is hard and the field of children's psychiatry is even harder. Major barriers are the lack of corresponding salary evaluation in the future and prestige that the rest of the medical disciplines like neurology or surgery offer. The time allowance for the subject itself at medical schools in the Czech Republic is crucially low, only 2 – 4 hours. However, the field is extremely complex. It is not only work with the child patient but also with his family, school or, social department. This will be discouraging to many students deciding for children psychiatry specialization. Resulting in a shortage of these much-needed experts. On the other side, there are children with mental issues that are waiting for treatment. And you know, living with a mental health issue without any medical help is even harder. So, what do medical students and vulnerable children have in common? Timetables.
Honorary mention: Karolína Kostková, Signal Festival and Vladimír Zikmund, McCann Prague
Idea and insight of the work:
Turn the Gen-Z into Gen-Zen. As the issue of mental health of kids and adolescents is a very complex one that needs a longterm approach, we created the platform Gen-Zen. Underneath it is content aimed to relieve mental health inconveniences like stress and unease, and helps find medical treatment for those who suffer from more serious mental health problems. It helps in normalizing mental health talks, gives advice and most importantly, it helps to make the field of child psychiatry appealing to present and future med students.
Honorary mention: Martin Richter and Karolína Hájková, Aignos
Idea and insight of the work:
We live in a fast-paced world of instant gratification culture. BUT for something as crucial as preventing and treating mental illnesses, we wait months. One of the most vulnerable groups in our society, CHILDREN, must wait as long as eight months for an appointment. But 8 months is too long. We need more medical students to choose pedopsychiatry as a career path to shorten this time. There are several barriers: a significantly outdated system in need of reform, the high psychological demands of the field, patient overcrowding, inhospitable spaces, the risk of rapid burnout and more. In our campaign, we will present the problem and these obstacles. Through the message 8 Months Is Too Long, we will show the absurd waiting time with which child patients suffering from depression, schizophrenic disorder, suicidal thoughts and other mental difficulties have to contend without professional help.
Honorary mention: Barbora Svoreňová and Gabriel Berzsi, Hearts&Science
Idea and insight of the work:
Adults are biologically wired to respond to the sound of a child's cries and take action to provide care. The sound triggers the brain regions responsible for our attention, leading us to provide company and comfort. In Czechia, mental health issues in children are often overlooked or not given the attention they deserve. By creating a campaign that features children´s cries, we harness the power of sound to bring attention to this issue. Studies repeatedly demonstrate that audio ads are more engaging, attention-grabbing, memorable and bring a significant lift in brand awareness. This campaign can increase awareness of the prevalence of undiagnosed mental health issues among children and make the field of child psychiatry more attractive to future doctors. Because many children are currently silently suffering from mental health disorders and not getting the treatment they need, the campaign is called: "Silence might be worse".
Congratulations to everyone!
And see you next year 🙂